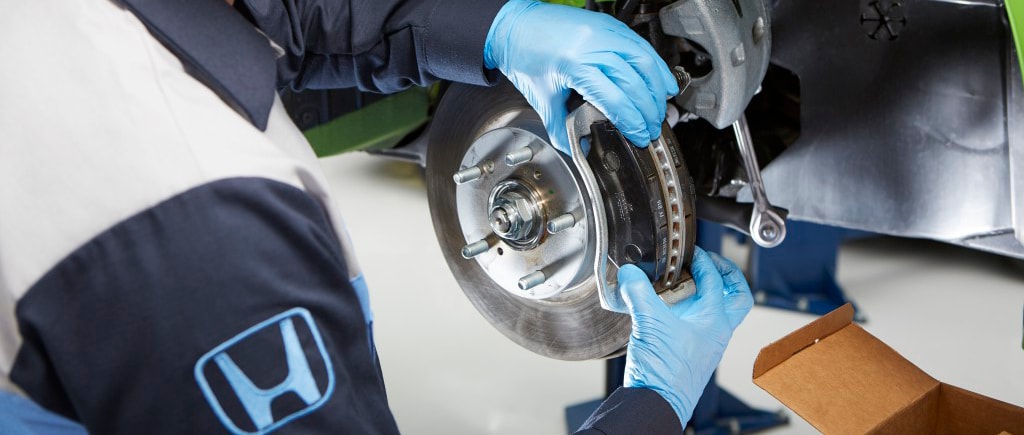 Servicing Your Brakes at Honda Cars of Rock Hill
Your Honda brakes are important to the control that you have during your time behind the wheel. Our Rock Hill, SC Honda dealership is here to inspect your brakes and to replace them when needed, making sure you will always be able to trust the performance of your vehicle. You'll be able to stop and slow down exactly when you need to, keeping you safer than if you neglect your brakes.
Signs that Your Brakes Need Some Work
There are a lot of ways that your car and brakes help you know that you should look into replacing your brakes. Many brakes are equipped with squealers that make a high-pitch noise when your brake pads start to wear down too far. You will also be able to know you should schedule a brake inspection if your brakes are not as good at doing their job or if you notice any strange smells, noises, or bumpy feelings when you press down on them.
You can easily schedule your service online, allowing you to find the time that is most convenient for your brake inspections. Our experts can look over your brakes and will make sure you don't have to worry about them while you are driving.
Contact Our Team to Learn More
Feel free to reach out to our team with any questions that you have about your brakes, how to care for them, or any other services including battery service and tire rotations. We can give you tips for longer lasting brakes, can suggest any work that you could need, or can help you find replacement parts so that you can do your own repairs. We look forward to hearing from you so that we can help keep your Honda model running its best for every drive that you have planned.
Hours
Monday

9:00AM - 8:00PM

Tuesday

9:00AM - 8:00PM

Wednesday

9:00AM - 8:00PM

Thursday

9:00AM - 8:00PM

Friday

9:00AM - 8:00PM

Saturday

9:00AM - 6:00PM

Sunday

1:00PM - 5:00PM