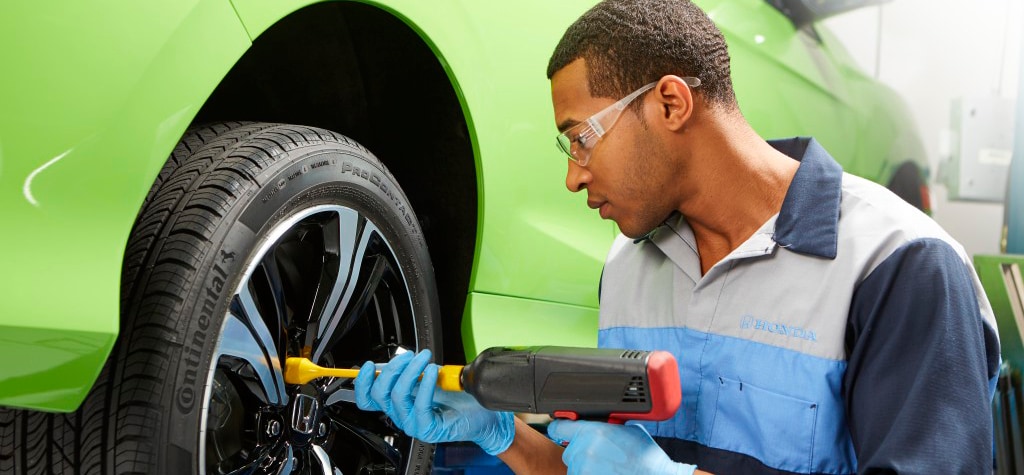 Learn More About Tires for Your Honda by Contacting Honda Cars of Rock Hill
There is a lot that goes into choosing the right tires for your Honda car, truck, or SUV. Our experts are here to keep your vehicle driving its best, which means giving you access to the right tire options. We look forward to answering your questions so that you can choose the tires that will give you the best control and traction wherever you go.
Why to Choose Our Team to Help with Your Tires?
You need to look through many different details like size, type, and rating for each tire option and you might not know which each means or which your vehicle will need. Our team has the experience to pair your vehicle with the tires that are perfect for it. If one of the measurements or types are wrong, then you could have a worse performance or could be unknowingly damaging another part of your vehicle.
Our team will help you care for the tires that you choose. Maintaining the right inflation level, inspecting them, aligning and rotating them, and replacing them, we will make sure you never have to worry about tires that are wearing down.
We Look Forward to Hearing from You Soon
You can call, email, chat, or visit our team to get moving towards your next set of tires or have questions regarding any of our services including battery service and brake repair. Going for too long without a replacement could leave you in danger, especially if your tire tread is worn down too far or if there is any damage on your tires, which is why we encourage you to reach out as soon as you think there is any kind of problem.
We want to make vehicle ownership feel as easy as possible, which is why you should choose our Rock Hill, SC Honda service center for your needs.
Hours
Monday

9:00AM - 8:00PM

Tuesday

9:00AM - 8:00PM

Wednesday

9:00AM - 8:00PM

Thursday

9:00AM - 8:00PM

Friday

9:00AM - 8:00PM

Saturday

9:00AM - 6:00PM

Sunday

1:00PM - 5:00PM